Washington Wizards' Owner Ted Leonsis On Sports Betting: "An Inevitability"
5/30/17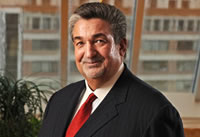 Ted Leonsis, business tycoon, and owner of the Washington Wizards and the Washington Capitals has made his position on regulated and legalized sports betting incredibly clear over the years. Just look at his interview with Sports Illustrated. He sat down with the publication a few months after Adam Silver penned his infamous op-ed at the New York Times on regulated sports betting. During the talk, Leonsis said that he "would like to see sports gambling legalized sometime in the near future."
"There's so much betting that goes on," he said. "It makes sense…It's better to get in front of it. The consumer is going to do what the consumer is going to do. We have to make sure that it's managed the right way." Clearly, the owner would have no problem with legal sports betting in Washington.
He's not just about talk, though, this NHL and NBA owner. Mr. Leonsis made headlines last week after it was revealed that he was amongst the investors to put nearly $12 million into an up and coming app called WinView, which imitates sports betting by asking players to make real-time predictions during the game. It's basically like proposition bets, only legal.
WinView is described by CEO Dave Lockton as a mix between daily fantasy sports and traditional sports betting. You enter a game room that is synced to a live game taking place on television. It is meant to be an interactive experience, allowing fans to actively engage with the game as it takes place. The game room will provide real-time predictions to players. You answer a yes or no question – like, will the team convert this third down – and are awarded small cash prizes for correct guesses.
The way it has remained legal is by offering cash prizes without a buy in. So no one is paying an entry fee for competitions (which is what is landing DraftKings and FanDuel in such hot water at the moment) and no one is risking money on these predictions. To accommodate the shifting political atmosphere surrounding sports betting in the United States, WinView has also begun developing a pay to play model, just waiting in the wings for a change in the legal sports betting situation.
So the fact that the owner of not one but two professional franchises has invested in this app is kind of a big deal. It shows, once again, how the attitude towards legalized and regulated sports betting has changed over time. As Mr. Leonsis puts it, "It makes sense."
This isn't the only investment in sports betting that Leonsis has made, either. The owner is clearly confident that sports betting will be coming to America very soon, as he and two other NBA owners, Mark Cuban and Michael Jordan, have invested over $40 million in the sports data company, Sportradar AG.
After estimating that over $100 billion was spent on betting on the NFL at overseas sportsbooks, Leonsis opined that the sheer sum alone makes sports gambling "probably an inevitability." Which is why he is so confident in investing in Sportradar AG. The company has helped to fine tune the detection of cheating and scandal in regards to sports betting in Europe, where gambling on sporting events has been legal for some time.
Sportradar has recently opened a base of operations in the states, in Minneapolis, Minnesota. When they made the move, Leonsis said he had to jump on the opportunity. "Sportradar's experience is going to translate and auger well here because we're years behind."
The Washington businessman is nothing if not savvy. Now if only other owners of professional franchises would take a page out of his book, SportBettingMaryland.com thinks we might actually be getting somewhere with the push for legalized and regulated sports betting in the United States.
Best Maryland Sports Betting Sites - 100% Trusted + Safe
| | | | | |
| --- | --- | --- | --- | --- |
| | | 50% Up To $1,000 | VISA, Bitcoin, Cash Wire | |
| | | 50% New Member Bonus! | VISA, Bitcoin | |
| | | 100% Up To $300 | VISA, Bitcoin | |
| | | 50% Up To $1,000 | Bitcoin, Wire Xfer, VISA | |