Perryville Sportsbooks
Perryville sportsbooks should be on the radar of every local sports enthusiast, as the city is no stranger to gaming. Perryville was the first city in Maryland to host a casino licensee once slots were legalized in the state, and the same casino also expanded its gambling options to include table games a few years later. Sports betting in Perryville would be a complementary addition to the gaming that is already available in the city. Furthermore, neighbors in Delaware, Pennsylvania, and Atlantic City have always been the biggest competitors for gaming in Perryville. Now that these states offer sports wagering, it only makes sense that sports betting in Perryville, MD, be an option for local sports enthusiasts.
To help sports fans prepare for sports betting in Perryville, we have put together some of the most helpful information. Find out when Perryville sportsbooks are expected to open, and also learn more about the legal environment for sports betting in Maryland. Finally, read our list of where to expect the best sportsbooks in Perryville, Maryland.
Best Maryland Sports Betting Sites - 100% Trusted + Safe
| | | | | |
| --- | --- | --- | --- | --- |
| | | 50% Up To $1,000 | VISA, Bitcoin, Cash Wire | |
| | | 50% New Member Bonus! | VISA, Bitcoin | |
| | | 100% Up To $300 | VISA, Bitcoin | |
| | | 50% Up To $1,000 | Bitcoin, Wire Xfer, VISA | |
Is Sports Betting Currently Legal In Perryville, Maryland?
Lawmakers are still in the process of launching sports betting in Perryville, Maryland. Policymakers must establish the necessary regulatory framework and award sports betting licenses in MD before sportsbooks can begin to open. The laws allow for sportsbooks to open in casinos, racetracks, professional sports stadiums, and various local businesses. Seeing as how Perryville is home to the first casino in the state and many sports fans, many expect to see support for a sportsbook in the general area once they are allowed to have one.
Maryland and other states were previously unable to even consider sports betting regulation as it was prohibited by federal law. The Professional and Amateur Sports Protection Act of 1992 (PASPA) was a law that banned states from licensing new sports betting operators or establishing sportsbooks. Nevada, Oregon, Montana, and Delaware were exceptions to the law as they had previously legalizing sports betting prior to the passage of PASPA. It was not until the landmark decision in Murphy vs. NCAA that other states were able to start legalizing sports betting in the United States.
In Murphy vs. NCAA, also known as the New Jersey sports case, the NCAA and four professional leagues filed multiple lawsuits against NJ for their attempts to regulate sports betting. In 2012 the sports associations started to argue that NJ legalizing sports betting would be a violation of PASPA, and it would also risk the integrity of their games. While the Third Circuit Court did continuously agree with the leagues in their argument, the Supreme Court did not. It was on May 18, 2018, that the Supreme Court struck down PASPA, citing that the federal ban was unconstitutional as it violated the 10th Amendment rights of the states. Now, Maryland and the 46 other states affected by the ban can opt to legalize sports betting.
While Perryville sportsbooks are still on hold, Maryland sports betting is expected to launch within the next few months. Given when the MD sports betting bill was signed into law, late 2021 to early 2022 should be when sportsbooks in Perryville open their doors.
What Is The Age To Bet On Sports In Perryville, Maryland?
Perryville, Maryland already has bettors that want to get involved in participating in sports betting but the age requirement is important as it keeps the number of people that can just throw their money in bets. The age requirement set at 21 and older is good for residents because it makes sure you are actually old enough to legally buy alcohol before you can engage in sports betting. Online sportsbooks do also have online casinos up and betting options as well, so find the best option for you.
Best Sportsbooks In Perryville, Maryland
If you have been waiting for the best sportsbooks in Perryville, Maryland, to open, you should not have to wait much longer. As the state prepares to launch sports betting, we can give you a heads up on what to expect from Perryville sportsbooks. As with any bookmaker, there will be large screens to display all of the latest betting odds. You will see betting lines on all of the major sports markets, including NFL, MLB, NBA, and NHL sporting events. Whether it's the Super Bowl or March Madness, you can expect to find exciting gaming action. The atmosphere will be fun, with the betting lounge potentially serving food and drink. Watch the games while lounging in comfortable seating, with high-definition TV's showing the big game.
It is still early, but we predict that Perryville's best sportsbook will be located at the Hollywood Casino Perryville. There may be additional Perryville sportsbooks to make the list once venues start to open, but you can read more about the Hollywood Casino Perryville's current offerings below.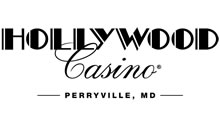 Hollywood Casino Perryville

Address:

1201 Chesapeake Overlook Pkwy, Perryville, MD 21903

Phone:

(410) 378-8500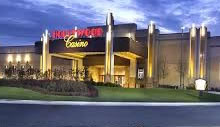 Judging from the casino's current offerings, we can almost guarantee that the sportsbook at the Hollywood Casino Perryville will have some of the best sports betting action in town. The casino has been in operation since September 17, 2010, and knows all about gaming. When it comes to sports, patrons will be able to wager on their favorite teams and then visit the casino floor or vice versa. The Hollywood Casino Perryville also has an off-track betting facility for horse enthusiasts, so they may create a separate betting lounge for sports bettors as well. As we get more information on the Hollywood Perryville Sportsbook, we will keep readers updated.
If you are ready to take a trip to the Hollywood Casino Perryville, you will not be disappointed. The casino features more than 800 slot machines with the latest and most popular titles. That's not to say that won't also be able to find the classic slot titles that you love. Slot machines range in denominations from pennies to multi-dollar denominational machines. The Sunset Video Poker bar is self-explanatory, but you can also find machines with electronic blackjack, 3-Card Poker, and roulette. The table games at Hollywood Casino Perryville are always thrilling for players of all levels. There are 22 table games to choose from, with games that include blackjack, roulette, craps, poker, Spanish 21, Ultimate Texas Hold'em, and 4 Card Poker.
Those who visit Hollywood Casino Perryville will never have to go hungry, as the dining options include the Greene Turtle and the Encore Room. For entertainment, you can visit the Greene Turtle to hear live music on the Hollywood Stage. Once the sportsbook at Hollywood Perryville opens, it is possible that the venue will undergo additional renovations. In this instance, we will note the features somewhere in our Perryville sportsbooks review.