Maryland Sports Betting Bill Tracker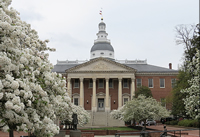 From the recent movement on our Maryland sports betting bill tracker, it is clear that MD is trying to keep up with its tristate counterparts. With six casinos and three racetracks, there were definitely parties interested in offering sports wagering, and will now get that ability in the near future. Since the Supreme Court ruling in Murphy vs. NCAA, legislators have introduced several bills that would legalize sports betting in Maryland. The case surrounded a federal law that prohibited sports gambling in the majority of the United States, but the Court ended up voting 6-3 that the law was unconstitutional.
As such, several states have already legalized sports betting and Maryland has done the same. Though it took longer than desired by sports bettors due to the fact that getting a sports betting law in place took a voter referendum on the 2020 November ballot. After voters approved sports betting it took months of debate in the 2021 legislative session to pass a sports betting bill enacting the framework of the industry. Now, sports bettors are waiting on licenses to be granted to upcoming sportsbooks before they can finally use in-state platforms.
At this point, the earliest that Maryland sports betting could launch is late 2021. For those that don't want to wait that long, know that none of the bills introduced or passed mentioned the use of online internationally-regulated sportsbooks. Those are still a legal option and will continue to be. But, it will still serve you right to know what's been introduced in the past and what bill finally passed.
Best Maryland Sports Betting Sites - 100% Trusted + Safe
| | | | | |
| --- | --- | --- | --- | --- |
| | | 50% Up To $1,000 | VISA, Bitcoin, Cash Wire | |
| | | 50% New Member Bonus! | VISA, Bitcoin | |
| | | 100% Up To $300 | VISA, Bitcoin | |
| | | 50% Up To $1,000 | Bitcoin, Wire Xfer, VISA | |
Excerpt: "Authorizing sports wagering license holders to accept wagers on sporting events by certain methods and in certain locations; requiring certain fantasy competition operators to register with the State Lottery and Gaming Control Commission before offering fantasy competition or services; authorizing the Commission to impose a fee for the registration of an operator; establishing the Small, Minority-Owned, and Women-Owned Business Sports Wagering Assistance Fund to assist certain businesses entering the sports wagering market; etc."
Summary: The bill sets up the regulatory framework of how sports betting in Maryland will work. It points out the types of businesses that will have sportsbooks, how they can apply, how much they'll be taxed, etc. It also outlines those same types of rules for online sportsbooks.
Actions:
House 2/02/2021 2/02/2021 First Reading Ways and Means
House 2/02/2021 2/02/2021 Hearing 2/25 at 1:30 p.m.
Vote - House - Committee - Ways and Means
House 3/05/2021 3/05/2021 Favorable with Amendments Report by Ways and Means
House 3/09/2021 3/01/2021 Favorable with Amendments {365361/1 Adopted 20B
House 3/09/2021 3/01/2021 Motion Special Order until Next Session (Delegate Patterson)
Adopted 20B
House 3/10/2021 3/02/2021 Floor Amendment {183220/1 (Delegate Wivell) Rejected (44-93) 21
House 3/10/2021 3/02/2021 Second Reading Passed with Amendments 21
House 3/11/2021 3/03/2021 Third Reading Passed (129-10) 22
Senate 3/12/2021 2/24/2021 Referred Budget and Taxation 25
Senate 3/15/2021 3/15/2021 Hearing 3/25 at 1:00 p.m.
Vote - Senate - Committee - Budget and Taxation
Senate 4/08/2021 4/08/2021 Favorable with Amendments Report by Budget and Taxation
Senate 4/08/2021 3/17/2021 Favorable with Amendments {559730/1 Adopted 42A
Senate 4/08/2021 3/17/2021 Second Reading Passed with Amendments 42A
Senate 4/12/2021 3/21/2021 Motion Returned Second Reading (Senator Zucker) Adopted 46
Senate 4/12/2021 3/21/2021 Motion Reconsider Committee Amendments (Senator Zucker)
Adopted 46
Senate 4/12/2021 3/21/2021 Motion to withdraw Committee Amendments (Senator Zucker)
Adopted 46
Senate 4/12/2021 3/21/2021 Substitute Committee Amendment {655467/1 Adopted 46
Senate 4/12/2021 3/21/2021 Second Reading Passed with Amendments 46
Senate 4/12/2021 3/21/2021 Motion Rules Suspend Two Readings Same Day Const/Rule 24 (Senator Zucker) Adopted 46
Senate 4/12/2021 3/21/2021 Motion Special Order until Later Today (Senator Beidle) Adopted 46
Senate 4/12/2021 3/21/2021 Third Reading Passed (47-0) 46
House 4/12/2021 3/28/2021 House Concurs Senate Amendments 47
House 4/12/2021 3/28/2021 Third Reading Passed (124-14) 47
House 4/12/2021 3/28/2021 Passed Enrolled
Post Passage 5/18/2021 5/18/2021 Approved by the Governor - Chapter 356