Maryland Latest State To Consider Legalized Sports Betting
3/29/17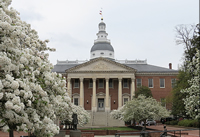 Slowly but surely, efforts to legalize sports betting in the United States have been gaining momentum. Maryland is the latest state to show more than just interest in bringing legal sports betting options to its residents by introducing this bill. New Jersey has been making headlines for their seemingly uphill battle in challenging PASPA, but Maryland is taking a completely different approach. Rather than attempting to prove the federal law unconstitutional, MD would instead legalize sports betting should a court decide to repeal or amend PASPA on its own accord.
A Closer Look At HB 989
Filed by Republican state delegates Jason Buckel and Kevin Hornberger, Maryland's recently proposed House Bill 989 introduces several new concepts and regulatory structures. The state would do an intensive study on the sports betting industry and take into consideration the regulations already in place by states like Nevada that offer legalized sports betting. The bill also calls for the creation of a sports betting task force that would consist of the director of the Maryland State Lottery & Gaming Control Agency, three state senators, three delegates, and various representatives from MD casinos and horse racing facilities.
MD HB-989 delegates regulatory authority of sports betting to the State Lottery and Gaming Control Commission. Their governance would also include establishing an application process for facilities desiring to offer sports betting, which means that casinos and racetracks in the state would be able to apply for new sports betting licenses.
For the bill to go into effect, it would first need to gain several stamps of approval. After passing the legislature and being signed by MD governor Larry Hogan, the bill would then be put to a voter referendum.
Read The Full Text: Maryland.gov/hb-989
What Other States Have To Say
"I understand the federal law prohibits [sports] gambling, but I am the kind of guy that's willing to take on the government…" - MI Representative Robert Kosowski
Compared to the actions being taken by other states, Maryland's approach is the least aggressive. The entire bill hinges on the dismantlement of the Professional and Amateur Sports Protection Act, whereas other states are actively seeking to contest the law. If New Jersey were to win their case opposing PASPA, MD would then be able to offer sports betting if HB 989 is passed. There have also been talks of New York taking interest in challenging PASPA, which could also work in MD's favor. Michigan also brought back a bill that legalizes sports betting and lawmakers are hopeful that the bill will become law in the coming years.
Is Sports Betting A Good Fit For MD?
Maryland is currently home to several casinos and racetracks, including Maryland Live in Anne Arundel county and Pimlico Race Course in Baltimore. Facility operators have been vocal about their desire to get in on a share of the lucrative sports betting industry. With the American Gaming Association estimating that $4.5bn of the $4.7bn wagered on the Super Bowl this year came from illegal bets, it makes sense that casino owners are frustrated by their inability to tap into the market. Should Maryland HB-989 be passed into law, it will be met with much praise by the existing gambling operators in the state and advocates of legal sports betting in Maryland everywhere.
Best Maryland Sports Betting Sites - 100% Trusted + Safe
| | | | | |
| --- | --- | --- | --- | --- |
| | | 50% Up To $1,000 | VISA, Bitcoin, Cash Wire | |
| | | 50% New Member Bonus! | VISA, Bitcoin | |
| | | 100% Up To $300 | VISA, Bitcoin | |
| | | 50% Up To $1,000 | Bitcoin, Wire Xfer, VISA | |