Jack Evans Barreling Through Process To Legalize Sports Betting In D.C.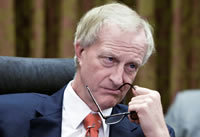 NEW YORK – If mobile sports wagering must get a constitutional amendment before becoming a law, the process to do that could delay online sports betting by three years in New York.
Sports betting is now legal in New York and it should launch later this year. One of the key factors about how wagering on sports is going to work in the state is that commercial casinos are the only facilities able to open sportsbooks.
This is a huge problem because to driving to these locations from New York city takes two to three hours. As a result, most New Yorkers would rather go to a casino in New Jersey that is just 15 miles away.
Lawmakers are worried that New York City residents going to New Jersey - or another state - for sports betting will cause a massive loss in state revenue.
"People get into a rhythm in lifestyle and get used to it," said State Senator Joseph Addabbo. "I'm hoping that they change their lifestyle and utilize our apps and facilities. We need to capture their money here before people get too comfortable jumping to Jersey."
That loss of revenue would be very beneficial to help alleviate New York's financial troubles. According to Governor Andrew Cuomo, state tax revenue is currently $2.3 billion under projections of the current fiscal year.
Even though that is the case, Cuomo said that a constitutional amendment is necessary for New York to include mobile wagering. The process to make a constitutional amendment is three years. The Governor also said that sports wagering from the casinos upstate should be enough to help close the financial budget gap that the state is facing.
Jeff Gural, who owns a casino in both New York and New Jersey saidthe way New Jersey handles online wagering should be fine for New York.
"But my own opinion, based on the legal opinions that I've ready from smart people, is that it's where the server is that's considered where the bet is being made, so it shouldn't need a constitutional amendment," said Gural.
But until Cuomo agrees with that, SportBettingMaryland.com thinks the State of New York will need to go through the process of a constitutional amendment to make mobile and online sports gambling a reality. Lawmakers are worried even if an amendment were to go through, residents in New York city will continue to go to New Jersey or elsewhere because they are used to it. They also do not potential revenue for New York to go to another state.
Best Maryland Sports Betting Sites - 100% Trusted + Safe
| | | | | |
| --- | --- | --- | --- | --- |
| | | 50% Up To $1,000 | VISA, Bitcoin, Cash Wire | |
| | | 50% New Member Bonus! | VISA, Bitcoin | |
| | | 100% Up To $300 | VISA, Bitcoin | |
| | | 50% Up To $1,000 | Bitcoin, Wire Xfer, VISA | |