Baltimore Sportsbooks
As the largest city in the state and the home of two popular sports franchises, Baltimore sportsbooks are set to offer some of the best sports betting in Maryland. Charm City already has casino gambling and horse betting, which is why adding sports wagering to the mix would be ideal. State regulators are currently working towards achieving that goal. Sports betting at Baltimore casinos has already been legalized but it is now a matter of making sure the proper businesses are awarded licenses to operate sportsbooks in MD.
With all of the speculation surrounding sports betting in Baltimore, Maryland, we can offer some clarity. We will provide you with the legal background of Maryland sports betting and give you an idea of when you can expect sports betting to arrive. Then, you can read our tentative list of the best sportsbooks in Baltimore, Maryland, along with details on what the operators currently offer. Periodically check out our Baltimore sportsbooks page for the latest updates on Maryland sports betting.
Best Maryland Sports Betting Sites - 100% Trusted + Safe
| | | | | |
| --- | --- | --- | --- | --- |
| | | 50% Up To $1,000 | VISA, Bitcoin, Cash Wire | |
| | | 50% New Member Bonus! | VISA, Bitcoin | |
| | | 100% Up To $300 | VISA, Bitcoin | |
| | | 50% Up To $1,000 | Bitcoin, Wire Xfer, VISA | |
Is Sports Betting Currently Legal In Baltimore, MD?
Sports betting is currently legal in Baltimore, MD but it is not yet launched. But the fact that Baltimore sportsbooks are even a possibility is a major feat in itself, as there was a federal ban on the activity for years. This was due to the Professional and Amateur Sports Protection Act of 1992 (PASPA), which prohibited states from issuing sports betting licenses or having any type of sportsbook operations. The only exception to the law was made for states that had already legalized sports wagering prior to the January 1, 1993 passage of the Act. Nevada offered single-game wagering, Delaware permitted NFL parlay cards, while Oregon and Montana at one point had sports lotteries.
The federal ban was lifted once the Supreme Court ruled on the Murphy vs. NCAA case, which centered on whether PASPA was constitutional. The NCAA, NHL, NFL, NBA, and MLB filed lawsuits against New Jersey after the state made several attempts to regulate sports wagering. The leagues were right in their allegations that the state was violating PASPA, but New Jersey argued that the law itself was in violation of their Tenth Amendment rights as it relates to state sovereignty. The Court ruled in favor of N.J, finding that the law violated the anti-commandeering clause. As a result, the 25-year ban on sports gambling across the nation was ended.
With no federal barrier, sports betting in Maryland and other states is now a reality. Once the state authorizes sports betting for applicable venues, Baltimore sportsbooks will be able to open for business. Lawmakers in the state have passed sports betting bills that would legalize sports betting at Baltimore casinos, racetracks, and even other local businesses. In order for any of the sports wagering venues to launch, the state will have to award them licenses. This should happen toward the end of 2021 to the beginning of 2022.
What Is The Age To Bet On Sports In Baltimore, MD?
There are different age limits for different betting options for sports betting in Maryland. To bet in Baltimore on horse racing you have to be at least 18 and older. When it comes to betting online on sports, you have to be 21 and older. This is very popular in Baltimore. The sports venues in Baltimore have offered both horse betting and sports betting as well but online sportsbooks will have all the options and then more as well. Definitely check local laws to make sure you won't be put in a predicament.
Other Cities With Maryland Sportsbooks
Best Sportsbooks In Baltimore, Maryland
It is only a matter of time before sports fans can start placing wagers at the best sportsbooks in Baltimore, Maryland. Baltimore sportsbooks will offer a true Vegas-style gaming experience, with the majority of venues providing casino games in addition to accepting sports bets. There may also be mobile sports betting apps for Baltimore residents, or sports betting sites that allow patrons to log in and place bets from their accounts. The one aspect that all of Baltimore's best sportsbooks will have in common is that they will provide the latest betting odds on NFL, NHL, MLB, and NBA teams. You will be able to wager on all of your favorite teams, like the Baltimore Orioles or Baltimore Ravens. As more venues arise, we will update our list of the best sportsbooks in Baltimore, MD. Here are our predictions: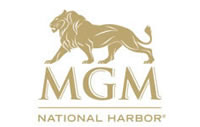 Horseshoe Casino Baltimore

Address:

1525 Russell St, Baltimore, MD 21230

Phone:

(844) 777-SHOE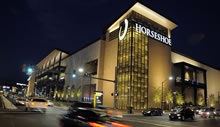 The Horseshoe Baltimore Sportsbook will undoubtedly be one of the best sportsbooks in Baltimore, Maryland. The venue is located on Russell St., which neighbors M&T Bank Stadium along with Camden Yards. Being next to the homes of the Baltimore Ravens and Baltimore Orioles will easily make the sportsbook at the Horseshoe Casino Baltimore the flagship book in the state. For now, visitors can enjoy traditional casino gaming which includes slots, table games, entertainment, and more.
At the Horseshoe Baltimore, there are more than 2,220 slot games that include 150 video poker machines. There are games for all types of players, so whether you want to play penny slots or visit the $500 slot machines in the high-limit area, there are options. Horseshoe Baltimore also has slot tournaments and other promotions that help players win big!
If table games are more your speed, you can count on the best odds and highest limits at Horseshoe Baltimore. With 153 table games, it's hard not to make money when you take a seat at the table. Blackjack, craps, baccarat, roulette, Let It Ride, Fortune Pai Gow Poker, and Three Card Poker are just some of the games that you will find at the casino. You can also play in the World Series of Poker (WSOP) room.
Horse enthusiasts can also bet the ponies while visiting Horseshoe Baltimore. The racebook features forty-four carrels, thirty televisions, and plenty of odds on the day's thoroughbred and harness races. Simulcast wagering allows you to bet on races happening at Churchill Downs, Del Mar, Pimlico, and tracks all across the nation.
In between gaming, there are plenty of things to do at the Horseshoe Casino Baltimore. On the property, you can visit any of the nine restaurants that range from upscale dining at Gordon Ramsay Steak to a quick bit at B'More Chicken & Donuts. There is also the 14Forty Lounge for drinks or live entertainment. The casino is located near the Inner Harbor, so patrons can also explore the area during their visit.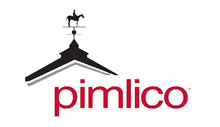 Pimlico Race Course

Address:

5201 Park Heights Ave, Baltimore, MD 21215

Phone:

(410) 542-9400
The Pimlico Race Course is recognized across the world for hosting one of the legs of the Triple Crown. The Preakness Stakes provides pari-mutuel bettors with an opportunity to watch the most majestic beasts compete in one of the most historic venues in the nation. Thoroughbred racing fans are taken very seriously here and those that are new to horse race betting are invited to visit as well. The friendly staff has numerous guides on how to make the most out of every bet, and the track offers group sales so that you can bring your friends, family, or kids to Pimlico.
While you're there you can enjoy several dining options including Terrace Dining, Sports Palace, Hall of Fame and the Jockey Club. Terrace Dining offers an open view of the track, so you can eat luxuriously and watch the races at the same time. The Jockey Club offers an even better view which you can reserve for a private event.
If you're more interested in other races going on that day you'll also have the chance to place bets on Simulcasts races. The Sports Palace has multiple TVs to be able to watch races happening all over the nation and serve top-notch drinks for all of their customers.
Now that sports betting is legal in MD we are sure that Pimlico will maintain its world-renowned reputation to go along with it's sportsbook. Baltimore sports bettors can expect to see a plethora of options when it comes to wagering types, betting lines, payouts for putting down money on Baltimore home teams.
Once sports betting is legal in MD we are sure that Pimlico will maintain its world-renowned reputation to go along with it's sportsbook. Baltimore sports bettors can expect to see a plethora of options when it comes to wagering types, betting lines, payouts for putting down money on Baltimore home teams.